This qualifies as:
1. extreme stupidity
2. extreme chutzpah
3. extreme contempt for the intelligence of anyone but the brain dead
Palin decries extremist partisanship? Say what?
Alaska Gov. Sarah Palin on Thursday argued that she and her fellow Republican governors were ready to put aside "extreme partisanship" and act if Washington fails to provide the leadership America needs.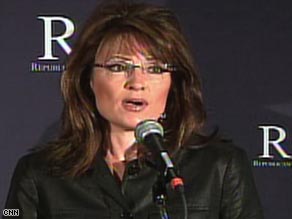 Alaska Gov. Sarah Palin talks to reporters at the GOP governors' group meeting Thursday in Miami, Florida.
Speaking at her first formal news conference before the national media since the GOP presidential ticket lost last week, the former vice presidential nominee argued that her fellow Republican governors "don't let obsessive, extreme partisanship ... get in the way of doing what's right."
"I think that this group is going to be looked to and looked at for leadership that perhaps had been lacking in Congress and in Washington, D.C.," she said. "This group is going to be uniquely qualified to provide leadership in this nation."
Asked why she chose to hold her first formal news conference now, Palin replied, "The campaign is over."
Who buys this crap?